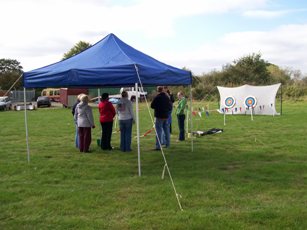 Archery Experience Day in London- how it works :

We provide over 100 archery courses every year and give all of our guests full instruction. For a typical London archery experience day we arrive in plenty of time to set up all of our equipment. This consists of a white backstop net, butt stands, traditional round straw butts with multi coloured targets (we also offer "Archery Darts" and "Scrabble Archery"!), ground quivers and a selection of right handed and left handed Olympic Recurve Bows. The activity is set against a backdrop of red, white and blue bunting with a mini marquee for shelter.

Then it's time to bring out your inner "Robin Hood"! Guests receive full instruction and training from our experienced facilitator and scores are kept to determine the winners.

Contact us:

To contact a member of our events team please call us on 07770 982290, send an Email or fill in our online Enquiry Form.


We can provide Archery hire in all areas of Greater London including: Sutton, Croydon, Epsom, Staines, Enfield, Woolwich, Uxbridge, Weybridge, Watford, Heathrow, Hounslow, Dartford, Bromley, Caterham, Redhill, Hatfield, Harlow, Chertsey, Brentwood, Waltham Abbey, Borehamwood, Richmond, Rickmansworth, etc. If you dont have a venue in mind then just give us a call and we will help source one for you. For details of more team activities please visit our Team Building home page.