Devon Stag Do Ideas | Stag Party Activities & Weekends

Phoenix Leisure offers an exciting range of Devon Stag Party Activities. We are unique in that we offer a fully mobile service as well as operating from a range of carefully chosen venues. If your Stag Party is staying at a farmhouse or similar venue with grounds then we can bring our activities to you and run an event on site- no need to travel away from your accommodation! If you donít have grounds then itís not a problem- we can source a suitable location for you nearby.

Some suggested ideas:









Surf Lessons


Coast Steering



Contact Details

To book your Devon Stag Party event or just make an enquiry please call a member of our events team on 07770 982290, send us an email or fill out our Enquiry Form and we will get back to you as soon as possible.

Please note that you will not be sharing your event with any other groups- we operate on an exclusive basis. We donít run a dedicated centre where the equipment is thrashed to within an inch of its life and you are rushed through the activities because there is another group queuing behind you. Our events are a lot more relaxed and informal- weíre not the cheapest but we do believe in offering value for money.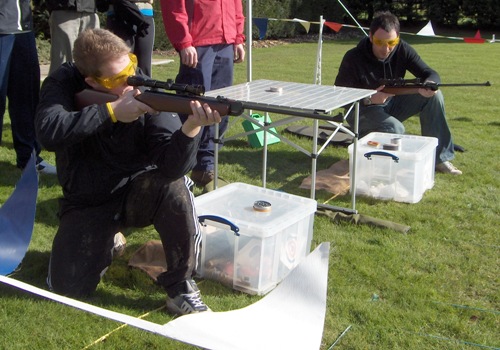 Wedding Entertainment

Phoenix Leisure can also provide a whole host of other entertainment for your wedding ranging from our state of the art BATAK Pro reaction game through to a selection of Giant Garden Games to keep the kids amused! We also specialise in corporate team building events with a selection of indoor and outdoor packages to choose from. You might mention to your ďwife to beĒ that we provide Hen Parties as well!